Faux screen printing
! Soooo much fun!
What you need:
Reynolds Freezer Paper
Blank T shirt
Fabric paint
Iron and ironing board
Exacto knife
Self healing mat
Pencil
Stiff sponge brush
Stencil
How to do it:
Find a picture you like online (easier/less detail the better) or use a die cut machine to make your stencil. I used my Cricut to make Liv's stencils since I had more girly cartridges and I Googled Star Wars to find a clip art image the boys liked for theirs.
Once you have your image printed out, you will need to trace it onto the matte side of the freezer paper.
When you are done tracing, it's time to cut out your stencil. Use your exactly knife to cut on the lines you traced. Keep all the little pieces you cut out, you might need them in a minute.
Next, place the stencil on your shirt, shiny side down, where you want it. Use any of the cutout pieces for details if needed (like the inner cutout of letters). Make sure this is where you want it. With your iron on the cotton setting, lay your iron down in the center of your stencil. Then pick it up and lay in down all around the outside (this way you don't move the stencil if you rub the iron over it.)
Make sure your freezer paper is secure on all the edges you are going to paint over so you don't have any weird edges where the paint bled under. Now paint! Make sure you get a good even coverage of paint. Pay special attention to your edges so they come out even.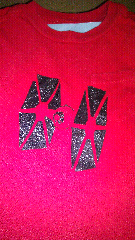 Once you are done painting, you need to peel off the paper VERY CAREFULLY! The paper has paint on it and if you aren't super careful as you peel it off, you will get paint smears in odd places. Now you are done!! Put the shirt somewhere flat and out of eager hands reach to dry for about 4 hours then it's ready to wear. Wash and dry like normal and you have a spiffy custom shirt!